When I blogged about how to gain the upper hand in an offer negotiation several of the strategies revolved around strengthening your ability to walk away from the negotiation altogether. Negotiating in good faith means that you sincerely want to work something out, so walking away should be a last resort. However, the ability to walk away is what gives you leverage – not needing the offer is the best way to ensure you get a better offer.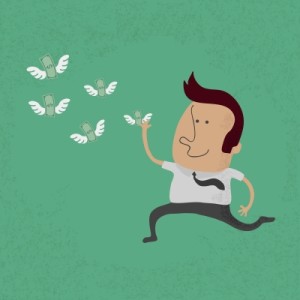 In my experience as a recruiter and coach, a big part of the neediness in negotiation comes from money. Even my high-earner candidates and clients don't necessarily manage their money in such a way that they can easily walk away from an offer without feeling some financial regret. The ultimate leverage in an offer negotiation is financial freedom – where you don't have to work for the money and therefore can walk away at absolutely any time. You might think this is a pipe dream and not a realistic strategy to even consider, but there are so many routes to financial freedom that you may be closer than you think. At the very least, considering a financial freedom strategy forces you to get creative – and creative thinking is critical to career planning!
Spend less money (so you need less in that offer negotiation)
A lot of spending is lazy and unconscious – items we don't need or expensive meals that aren't even good for our health. When I was focusing on acting (one of my earlier extreme career changes), one teacher made all the students create a bare bones budget (he called it the "Spaghetti Budget") so we would all know the absolute minimum we would need to live. For many of us, this was significantly less than what we spent day-to-day. There is a lot of savings just by spending more mindfully. Of course, when you're mid-career and have family obligations, there are usually some big-ticket items (e.g., mortgage payment) you can't easily change. However, if you haven't looked at your spending for a while to identify your needs v. wants, it's a powerful exercise to do, even if you decide not to change anything.
Homework for you: tally up your monthly expenses and tag by need v. want.
Move abroad (another way to need less from that offer negotiation)
I'm writing this post in Costa Rica, where the cost of living is a fraction of my hometown. For those big-ticket items which can be very difficult to change significantly, especially if you're in a high-cost location, a move is one solution. Looking at a move (even if you never do) is also an excellent creative exercise – how would you support yourself? How would you establish a network in your new location? Because I'm a big travel and real estate buff, I run these scenarios all the time, and it's fun to actually visit the places – I'm writing this post overlooking the ocean.
Homework for you: pick a location and sketch out your move – what would you do, what would it cost.
Maintain relationships with past employers (so you can walk away from one offer negotiation and land another one relatively quickly)
People do business with people they know, like and trust. When you've worked with someone in the past, you've already met that bar (I assume that people reading our site regularly already do a good job where they are!). So past employers, in particular, are a critical part of your network. My past employers were my first clients when SixFigureStart launched. Past colleagues have also hired our company or have been amazing referrals. Past employers are likely your quickest path to a job or project. Even if you don't rely on them, strengthening these relationships is like financial freedom insurance.
Homework for you: take an inventory of past supervisors, colleagues, even direct reports. Get in touch with as many as you can, simply to say hello. You do not want the first time you reach out to be when you need something!
Develop a consulting offering (so the next offer negotiation may be about a project or interim role or a wider variety of options)
You may not want to be in business for yourself, but the ability to quickly launch a consulting practice is another step to financial freedom. I point to consulting, specifically, because it has extremely low start-up costs and go-to-market time. You don't have to hold inventory. With so much done virtually today, you don't need office space outside your home. You will be working with your existing expertise. You can sell to existing relationships. Even if you have no intention of starting a business, you should know how. The more sources of income you have, the closer you are to financial freedom and the more leverage you have.
Homework for you: sketch out your consulting business plan. What would you offer? What would you charge? Who would be the first 10 people you offered your services to?
Prioritize income-generating investments (so that offer negotiation could be irrelevant)
Rental real estate, dividend-paying stocks, and business partnerships where you're not involved day-to-day are all examples of income-generating investments. Since they are unrelated to your day job, they complement what you're doing – these investments work alongside of you, adding to your financial freedom account.
Homework for you: look at how you generate income – even the low interest-bearing bank account counts. Think about how you can increase the diversity of your sources and the earning power of those sources unrelated to your day job.
I write a career column, not a money column, but in the case of offer negotiation, a strong money position, ideally financial freedom, is the ultimate form of leverage. There are other reasons you may really want an offer – perhaps it's your dream company or you feel you need this specific role for your dream career path – in which case, financial freedom won't solve for this. (For this type of leverage, you want a strong network and other leads in the pipeline to ensure this option isn't your only route to your dream company or role.) However, for most negotiations I've seen, financial freedom mitigates most of the uncertainty and anxiety in the negotiation. Don't assume financial freedom is out of reach for you. Try out some of the homework suggestions, and let us know what you find!